Pr

e

sident's Greetings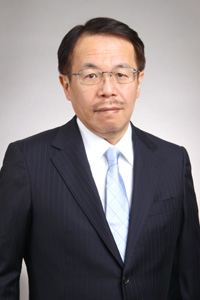 The Foundation was established in February 1982 in order to encourage and subsidize research into endoscopic medicine, thereby contributing to the development of medicine and improvement of the welfare of humankind. The Foundation made a new step as the Japanese Foundation for Research and Promotion of Endoscopy since we were authorized in November 2010 as a public interest corporation based on the revision of Japanese public corporation system.
Now that endoscopic medicine has become absolutely necessary in clinical medicine, it has been utilized in gastroenterology, pulmonology, urology, otorhinolaryngology, gynecology, orthopedic and cerebral surgeries, and cardiovascular diseases etc. In recent years especially, not only diagnosis but also treatments incorporating endoscopy and endo-surgery have significantly progressed and the latter performs an integral part of the endoscopy related studies as therapeutic endoscopy.
The Foundation's activities are characteristic in that we provide support for a wide variety of researches related to endoscopy covering several clinical departments. Until the fiscal year 2017, the Foundation has supported over 1200 cases in regards of research grants, which is our main business.
In addition, the standards of endoscopic medicine in our nation are at a top level in the world, having influenced other nations. The Foundation has been cooperative and has provided support for a number of foreign research doctors who came to Japan for researches. Those doctors are now leading the field in each country and contribute greatly to the worldwide development of endoscopic medicine. Furthermore, the Foundation supports young doctors in Japan by covering a part of travel expense when they make presentations at congresses abroad. This is because the Foundation sincerely hopes that the research results will be recognized widely across the globe and those doctors will widen their appeals.
Societies of endoscopic medicine are increasing remarkably in recent 10 years, and More than 60000 researchers are working on study and development of endoscopic medicine.
The Foundation, since its establishment in 1982, has offered approximately 4,300 grant cases with around 1.6 billion yen and we expect our value will be considered more and more significant. We would highly appreciate the continuous support to the Foundation from all the concerned. Thank you for your cooperation always.
Yoshinori Igarashi
President
The Japanese Foundation for Research and Promotion of Endoscopy
---